When to Call a Heating and Cooling Service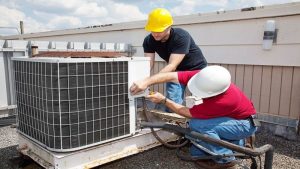 No one likes to spend money for services, and most people would rather try to fix a problem themselves, without having to call in a professional. However, not everyone has the expertise to fix things alone, and there are some things not so easily fixed.
Hiring a professional to come and take care of the issue is always the better course of action since it is what they are trained to do. The need for a heating and cooling service is no different.
Hot Summers and Harsh Winters
There is no time that a heater or air conditioner likes to break down more often than when they are needed most. It could be from overuse, or maybe the equipment just couldn't handle the temperatures any longer. Whatever the reason, it's best to call for a heating and cooling service right away. When it comes to cooling off or warming up during those extreme temperatures, no one likes to wait long.
Regular Check-Ups
Another reason to call in a heating and cooling service is for general maintenance. Having a professional check the heating system at least once a year can help make sure that it heats as well as it's supposed to. Professionals will also ensure that there are no carbon monoxide leaks, which are deadly to humans.
Making sure that the filters of the air conditioner are clean will keep the equipment emitting brisk cool air to fight off that summer heat. After all, the only thing worse than a broken air conditioner is an air conditioner that gives off just enough cool air to tease away the hot air. Visit proenergysolution.com to see other prime examples of when to call a heating and cooling service.
Worth the Call
Spending unplanned money can be an unnerving, especially when you are on a budget, but it's a necessity. Keeping a home and everything within maintained will save money down the road, and a heating and cooling service is the perfect business to call when things go awry. Tack a number for a local service on the fridge for easy access. You can connect with them on Facebook for more updates!