Heating and Cooling Services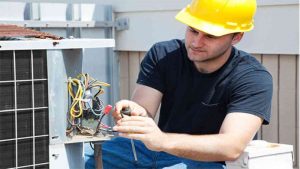 One of the best parts about today's technology is the way that you can enjoy a comfortable home all year long. Modern air conditioning and heating systems make it possible for you to program the thermostat and enjoy consistent temperatures. Today's heating and cooling systems are more efficient and use less energy, resulting in lower utility bills for your household. We are proud to be your local heating and cooling company in Avondale. Our licensed heating and air conditioning technicians provide you with excellent service.
We understand that an air conditioner could malfunction at any time. So could a furnace or heat pump. We offer emergency services to fix them and restore comfort to your home. Maintenance is the most important thing to do in order to keep your air conditioner, heat pump or furnace operating efficiently and effectively. We offer annual maintenance and tune-ups for air conditioners and furnaces. If you have a heat pump, we recommend a springtime and autumn service for the system.
An air conditioner or heat pump usually lasts for 10 to 12 years. Furnaces last for about 20 years. If your cooling or heating system needs a costly repair and is close to its life expectancy, we will give you information about the costs of replacing it. This allows you to make the best decision for your finances and your comfort.
At American Home Heating & Air Conditioning, we look forward to helping you enjoy a comfortable home all year long. Our heating and cooling company near Avondale offers affordable and efficient services that you can count on at all times. Give us a call today in order to schedule service, repairs or installations. You may also visit us online at https://americanhomeheating.com/ for more information about us, the products we install and the services we provide.